The District has published an community evacuation plan in the event an evacuation order is required. While every emergency requires a unique response, there will be a common set of guidelines the District will follow. In the case of an evacuation, the warnings must be timely and accurate. While the main concern is the preservation of life, those displaced from their homes or businesses may experience inconvenience, anxiety and fear. The Districts evacuation alerts and orders will be distributed via all available communication channels. These channels include; local radio, District website, social media (e.g. Facebook, Twitter, etc), District staff and volunteers going door-to-door, and the Districts Alert Warning system - Alertable.
Where possible, the District will attempt to follow the three-stage evacuation process:
Evacuation Alert

The Alert highlights the nature of the danger and that people should begin to prepare for an evacuation, should it become necessary. The Evacuation Alert may allow for the population at risk to begin an orderly preparation to voluntarily leave the affected area, within a specified time frame. However, the reality of the situation may require immediate action with very short notice.

Evacuation Order

The population at risk is ordered to evacuate the area specified in a formal written order. As such it does not allow for any discretion on the part of the population at risk. They must leave the area immediately and follow any instructions if included such as; utilizing authorized routes, reporting to nominated evacuation centres, etc.

While the evacuation order is in effect, the area in question will have controlled access and that a pass may be required to regain access to the area.

Evacuation Rescind

The population at risk is allowed to return to the area previously evacuated, having been advised that the danger has passed. There is the possibility that the danger may manifest itself again and the Evacuation Order might need to be reissued.

To best effect an evacuation, the District will utilize predetermined evacuation plans and following map below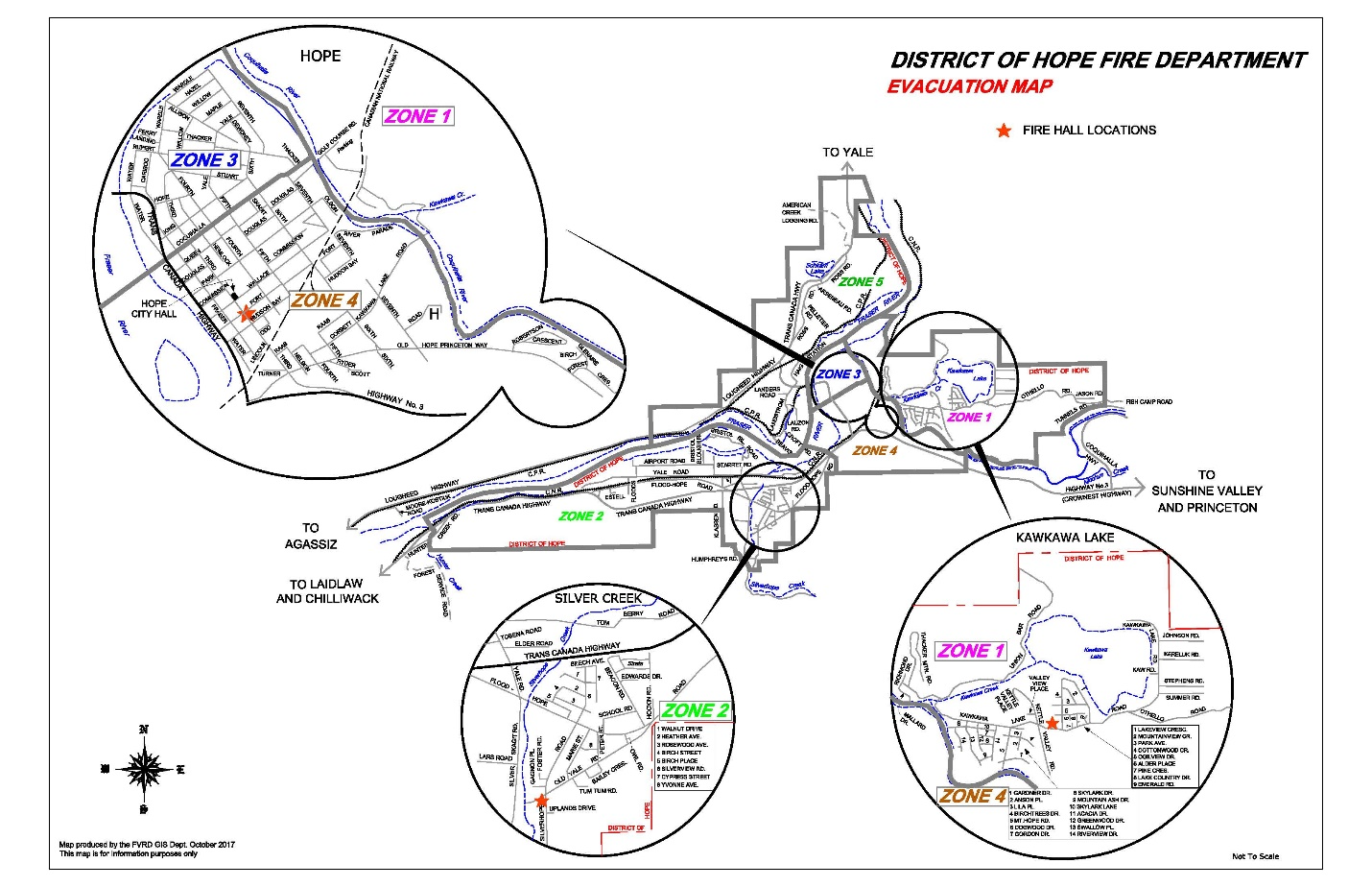 An Evacuation Order may or may not be preceded by a warning or advisory notice depending on how much time is available to clear the affected area. After the event and if it is safe to return home, the order is rescinded, and a public notice is issued.
To assist in planning, evacuations may be implemented in zones, as shown on the map below. For each zone, routing and resource planning figures will be provided as general guidance during an emergency. Local, permanent, and seasonal residents are responsible to understand which evacuation zone they live within.